CROSSLIGHT OFFERS
LOW PRICES!

Crosslight Camera, Grip, and Lighting offers competitive prices. Compare our deals with other companies. We are very reasonable. Look for our special deal announcements.

---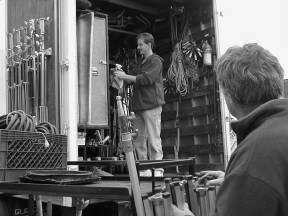 Crosslight grip/electric crew prepare a 5 ton truck - Photo J. Encino

CROSSLIGHT CAN
PROVIDE CREWS!
From DP's to grips, electricians, and sound mixers, Crosslight can provide reliable industry talents.
Call now!
310.478.5788
DP/Operator John Rhode on set of "Partners of the Heart" -photo N. Franco

CROSSLIGHT SHOOTS PBS TV DOC

Recently DP John Rhode joined producer Andrea Kalin to film "Partners of the Heart" for PBS. The documentary depicts the true story of Vivien Thomas and Alfred Blalock who together brought Thomas' surgical solution for the heart defect referred to as "blue baby" syndrome. The documentary is narrated by actor Morgan Freeman.
Rhode shot many of the interviews as well as 1940's recreations with old cameras using reversal film stock.
Insisting on bringing his own crew including 1st AC Nick Franco as well as his own equipment from Crosslight.
"I got a great crew who can read each other's minds!" says Rhode.
"Partners of the Heart" airs on PBS later this year.
John Rhode is a protégé of Oscar winning Cinematographer John Seale. The duos past credits together include: "Perfect Storm", "City of Angels", and "Ghosts of Mississippi" and "The American President". -ML
DP HARRIS DONE SELECTS CROSSLIGHT

Harris Done, DP, used Crosslight for a Pontiac Commercial for Plum Productions. He's set next to direct the film-noir thriller "Purgatory Flats." Thanks, Harris!

---
NO INSURANCE?
YOU'RE COVERED!

For an additional fee, We will cover insurance on equipment and liability to Crosslight!

---
DP CARL BARTELS

SPEAKS ABOUT
CROSSLIGHT

"I've used Crosslight on a number of shows," says Director of Photography Carl Bartels. "one of which was the 90's version of Robert Palmer's music video "Addicted to Love". Bartels began as a photographer who's shot for the corporate market and for many popular magazines. His efforts have taken him to 23 states and 7 countries. An AFI alumni, Bartels has been a DP for two dozen features including the much-praised WWI short, "Light in the Darkness". Bartels just finished shooting "Ride or Die" with Vivica Fox. -ML